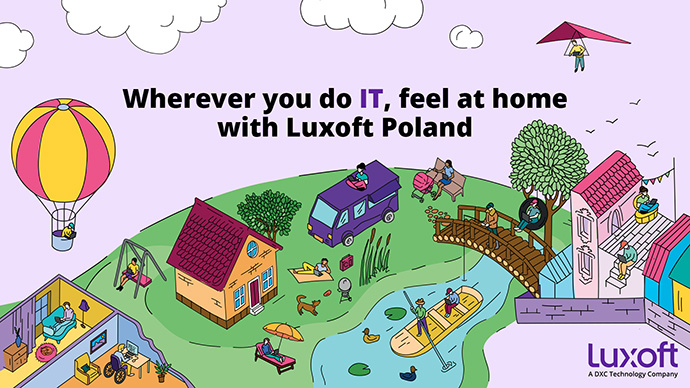 - All stages in our recruitment process can be done remotely -
Java Developer
Location: Remote Poland
PROJECT DESCRIPTION
As part of our strategic partnership with one of the biggest financial institutions in the World, we are hiring various IT specialists, who will become part of their IT Service Center. The bank is an international organization dedicated to providing financing, advice, and research to developing nations to aid their economic advancement. The bank predominantly acts as an organization that attempts to fight poverty by offering developmental assistance to middle- and low-income countries. Our client is a provider of financial and technical assistance to individual countries around the globe. The bank considers itself a unique financial institution that sets up partnerships to reduce poverty and support economic development.
A web developer with Java development experience to design and build complex business components and develop modern user interface web applications. The developer works under minimal supervision to design, test, and implement web applications, using industry-standard software development practices, techniques, tools, and frameworks. The incumbent will be expected to maintain, design and develop complex business components in Java, deploying to Java EE Application server.
RESPONSIBILITIES
Analyze current SiteMinder authentication implementation and how it interfaces with applications UI and service modules on the current ESB Mule services and several of the Java services.
Write Low Level Design, Unit Testing Plan and Unit Test case documentation
Design, develop, code review, bug-fix and test authentication framework components and its integration with application modules for the current existing ESB Mule services and Java services.
Modify the current ESB flow/services and Java services by implementing Azure AD authentication, which is currently using SiteMinder.
Assist in Integration Testing.
Perform Code optimization and strictly adhere to bank coding standards.
Assist in any documentation or any artifacts needed for OIS (Office of Information Security) clearance.
Participate in SCRUM meeting, coordination with onsite and offshore team.
Timely resolution of issues and root cause analysis of each issue.
Ability to work in Agile environment and following best practices.
Understand and utilize existing DevSecOps pipelines and create ones where needed.
Timely resolution of issues and root cause analysis of each issue.
Communicate accurate and useful status updates.
SKILLS
MUST
Must have 5+ years of experience in Web application/integration development with ESB MuleSoft and Java.
Must have working knowledge of Azure AD authentication for ESB and Java-based web APIs.
Must have experience with the MuleSoft ESB platform as a Developer with software development experience.
Must have competency with Java Hibernate/Spring framework.
Must have experience in application performance monitoring/optimizing and problem solving abilities w.r.t. Message Sequencing, Correlation, Queuing.
Must have experience using version control and defect tracking systems.
Must have experience in developing SOAP & REST based web services.
Must have experience in configuration management, release management, versioning and build process.
Experience in developing web applications utilizing ReactJS, HTML5, JQuery, CSS3 and JavaScript for UI components is a plus.
Excellent oral and written communication skills and the ability to clearly articulate to all project members and stakeholders.
Must be organized and good at managing deliverables, meeting notes, presentations and other documentation/communications.
Experience with Full Lifecycle software development processes.
Experience with Application Lifecycle Management tools and Source Control systems, such as Azure DevOps.
Experience in working in an Agile environment.
Team player who works well with technical and non-technical resources;
Knowledge on Oracle and PostgreSQL.
Knowledge on application integration with third party tools, such as PEGA.
Knowledge on SharePoint 2010/2013 is a plus.
NICE TO HAVE
.
CAREER AND PROFESSIONAL DEVELOPMENT
Competitive salary
Luxoft Training Center
Access to e-learning Library
Individual development plans
Long-term cooperation with possibility to gain experience in different projects and technologies
A significant number of professional communities (Agile Community, Tech Community, Business Analysis Community, etc.)
Well-being
Group Life Insurance
Private healthcare insurance – LuxMed. Unlimited access to specialist consultations with Dental Care included
Medical costs reimbursement for employees (up to certain amount per quarter)
Travel Insurance
Benefit Program - Cafeteria and Multisport Card
Work-Life Balance
Various communities (sport, recreation activities, trips, board games, cultural and educational activities)
Discounts program for employees – BeLux (banking offer, car leasing offer and cafeteria program discount)
Convenient locations in a modern offices with game rooms
Multinational projects for clients all over the world
Please apply with the button on the right side of this job offer.
We kindly inform you that we will contact only chosen candidates. If you are interested in the above position, please apply by submitting your CV in English
Check out our open roles at
career.luxoft.com
and follow us on Facebook!
www.facebook.com/luxoft.poland