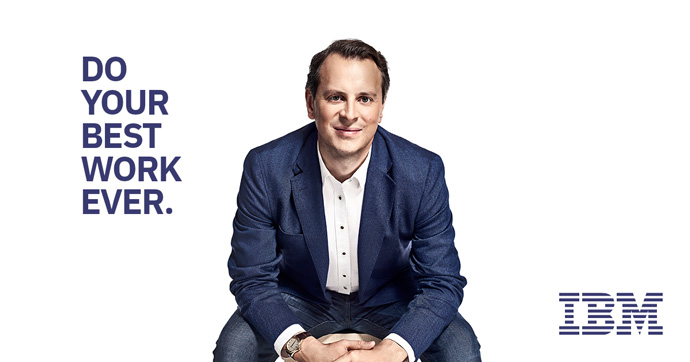 Who are we?

IBM is the largest technology and consulting employer in the world, serving clients in 170 countries. In this new era of Cognitive Business, IBM is helping to reshape industries by bringing together our expertise in Cloud, Analytics, Security, Mobile, and the Internet of Things. We are changing how we create. How we collaborate. How we analyze. How we engage. IBM is a leader in this global transformation so there is no better place to launch your career or further your career.

Transforming healthcare, improving the retail shopping experience, rerouting traffic and even designing the next generation fan experience in sports stadiums around the world – this is what IBMers do.

What makes our company unique?

Join us and be part of a diverse and global team of thinkers and doers. Work with extraordinary, insightful, imaginative people in an environment that cultivates creativity and individuality.

Career & development

IBM is just the place to advance your career and further develop your expertise. As an IBMer, you'll be part of an innovative team that strives to make the world work better. At the IBM Client Innovation Center Poland you'll have the chance to put your skills to work helping our clients get the most out of their IT investment. You won't just be solving IT problems, you'll be meeting business needs through innovative IT solutions for global companies.

We provide a flexible and collaborative working environment, plus the opportunity to grow your expertise through training and career development tailored to your interests and aspirations.
Be a part of our team - apply for the role:
Integration Software Developer
Location: Wrocław
IBM Global Services Delivery Center employs IT professionals across all sectors. This site is fast becoming a "Centre of Excellence" in key areas of the global technology industry. Few places offer as many opportunities to gain knowledge in your field, to work in a stimulating environment and rewards for outstanding performance as IBM. IBM can provide the perfect setting for your career and freedom to enjoy a rich personal life.
IBM Security is a pioneer and world leader in software and services that protect corporate and personal information from an ever-changing spectrum of online threats and misuse. IBM Security core operations are performed in Security Operations Centers (SOC) located in 8 locations around the Globe. SOC Poland is 2nd largest center covering globally all MSS operations.
As an Integration Software Developer, you'll use the latest tools and technologies available to deliver state-of-the-art software. You'll be responsible for ensuring that company software components are expertly designed, tested, debugged, verified, and ready for integration into IBM's best-of-breed solutions that help organizations improve their business outcomes in the global marketplace.
The ideal candidate should have experience with Software Development in Linux environments; scripting using PERL, PHP, Expect, or bash; Web technologies (Tomcat, Simple Object Access Protocol (SOAP), Representational State Transfer (REST)); and Integrated Development Environments (IDEs), code repositories (like GIT), and agile methodologies.
We are looking for Integration Software Developers on Middle and Senior level.
Requirements:
Several years of experience in software development (IDEs, code repositories, agile)
Several years of experience in scripting languages (PERL, PHP, Expect, bash)
Ability to work effectively as a remote employee with good interpersonal skills
Experience working in a Linux environment
English: Fluent
Nice to have:
Bachelor's Degree
Database experience (MySQL, MS SQL)
Web technologies (Tomcat, SOAP, REST)
Experience writing regular expressions
Working time: As you will be working directly with team in US working time is adjusted to US time zone. It is flexible but recommended 11am - 7pm CET.
As part of the IBM Security Services engineering team you will contribute to a cloud based managed security software suite, serving thousands of clients ranging from small and medium sized businesses to the Fortune 100. You will work alongside a fellow software craftsmen who employ best practices and emerging technology to strengthen security for safer computing.
We are seeking a candidate that will get the job done, and have the knowledge to solve problems using multiple programming languages. Candidate should be capable of developing solutions to run in a Linux environment using high level languages as well creating scripts, leveraging the best tools for the job. They will continually produce robust, high quality features that are deployed to production within short development cycles.
Additional benefits:
Possibility to work flexibly and/or remotely from home
Training and certifications
Private medical package and insurance package
Multisport Card
Working on international projects in multicultural teams
Good to be an IBMer discounts
Cinema & trips for IBMers
Language classes
Summer camps for children
Please apply with the button below.
Apply