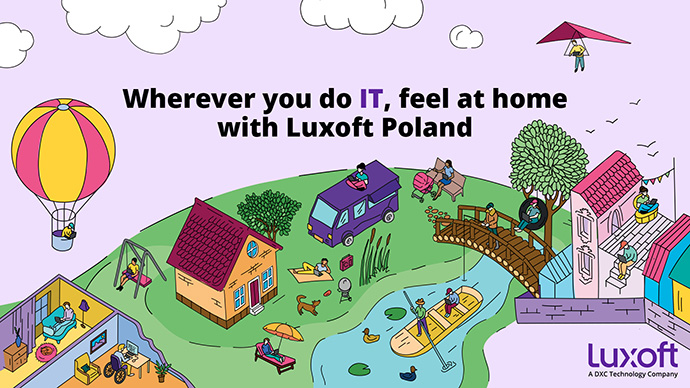 - All stages in our recruitment process can be done remotely -
DevOps Engineer
Location: Krakow
PROJECT DESCRIPTION
Falcon Equities Trading is the in house platform for our principal trading activity. That is, any activity that requires our Equities business to commit capital in order to facilitate our client activity: electronic trading and market making, risk management, pricing, and request for quote on Equity and Equity Derivative products. As technology teams supporting this global business we use cutting edge technology and we strive to be devops in everything we do, with a strong emphasis on close engagement with our business, agile processes and continuous improvement. Our technology, and the team is highly regarded within Global Banking and Markets business and senior IT management.
We value self-motivated individuals who enjoy problem solving and are passionate about technology. As a team we collaborate with our business partners and other IT teams globally and enjoy lively debate in order to find the best solutions to new challenges. We try to learn and review what we did in order to self-develop; overall we care and take pride in the technology solutions we deliver to the Equities business globally.
Who we are:
We are a global team of full stack development engineers supporting an entirely in-house application called Falcon for our global Equities trading businesses. This application provides execution capability on over 100 markets globally, the ability to market make products and to trade using algos. Our pods adhere to the DevOps ethos and work closely in partnership with the Equities traders. Everybody in the team will develop, release and support components of the system in production.
What we do:
We are building a new Krakow-based pod comprising full stack (Scala/Java/JavaScript) developers who will be a part of the global electronic Equities Trading development team formed of 4 pods globally (London, Hong Kong, Guangzhou, Krakow) supporting a trading platform being used by over 100 sales and traders in US, London, Hong Kong, MENAT. These roles will provide a great opportunity for you to learn the Equities and Equity Derivatives pricing and trading domain including electronic trading and algo trading.
RESPONSIBILITIES
Experience working within large-scale enterprise IT environment
Experience working with Agile working practices and tooling
Experience working within a DevOps operating model
Strong Engineering background preferred and/or experience to equivalent level
Experience working in automation and engineering domain
Ability to deliver fully automation solutions and see projects to completion
SKILLS
MUST
Experienced infrastructure engineer, expert on mission critical on-premise and external hosted Container Management Platforms such as Kubernetes, Openshift and others.
Deep technical expertise on Container Management tools and frameworks including
Experience with CI/CD e.g. Jenkins
Strong working experience in infrastructure automation through 'Infrastructure as a Code'
Strong experience with endpoint automation tools such as Puppet Enterprise
Strong experience with common scripting languages such as Shell, Perl, Ruby, Python
Strong working experience in DevOps tools e.g. GitHub, Jira, Confluence, Jenkins
Strong Automation/Orchestration experience with Ansible
Strong knowledge and awareness with Security aspects, compliance, vulnerability
NICE TO HAVE
Experience with RESTful API and/or Mule technology a plus
Good knowledge on external Cloud Provider (e.g. AWS, Google, IBM)
Good understanding in Database, Platform, Networking, Middleware domain and products.
Strong problem solving and analytical skill.
Strong communication skills across organisation levels
CAREER AND PROFESSIONAL DEVELOPMENT
Competitive salary
Luxoft Training Center
Access to e-learning Library
Individual development plans
Long-term cooperation with possibility to gain experience in different projects and technologies
A significant number of professional communities (Agile Community, Tech Community, Business Analysis Community, etc.)
Well-being
Group Life Insurance
Private healthcare insurance – LuxMed. Unlimited access to specialist consultations with Dental Care included
Medical costs reimbursement for employees (up to certain amount per quarter)
Travel Insurance
Benefit Program - Cafeteria and Multisport Card
Work-Life Balance
Various communities (sport, recreation activities, trips, board games, cultural and educational activities)
Discounts program for employees – BeLux (banking offer, car leasing offer and cafeteria program discount)
Convenient locations in a modern offices with game rooms
Multinational projects for clients all over the world
Please apply with the button on the right side of this job offer.
We kindly inform you that we will contact only chosen candidates. If you are interested in the above position, please apply by submitting your CV in English
Learn more about Luxoft at
www.luxoft.com
and follow us on Facebook!
www.facebook.com/luxoft.poland