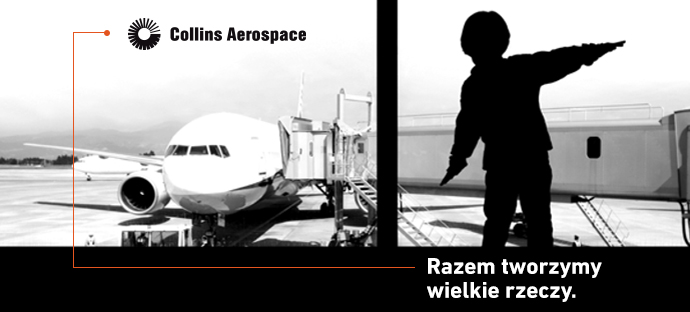 Collins Aerospace, jednostka United Technologies Corp. (NYSE: UTX), jest liderem w zakresie zaawansowanych technologicznie i inteligentnych rozwiązań dla globalnego przemysłu lotniczego i obronnego. Stworzona w 2018 roku przez połączenie UTC Aerospace Systems i Rockwell Collins, Collins Aerospace ma możliwości, kompleksową ofertę i doświadczenie, aby sprostać najtrudniejszym wyzwaniom klientów i wymaganiom szybko rozwijającego się globalnego rynku.
W związku z dynamicznym rozwojem poszukujemy kandydatów na stanowisko:
Business Unit Leader
Miejsce pracy: Wrocław
When the global aerospace community looks for ideas and solutions to its biggest challenges, they turn to the people of Collins Aerospace . We design, invent and deliver the most advanced and diverse range of aerospace systems on the market. We are inventors. We are manufacturers. We work in space exploration, commercial air travel, defense and rescue applications. Always learning and pushing the boundaries, we are an undisputed industry leader that continually sets the bar higher and higher. Come soar with us.
We are seeking an innovative, data driven, results-oriented Leader to contribute to our continued legacy of innovation. This position is for a Manager with a cross-functional capabilities who will drive continuous improvement within organization and be responsible for managing variety of operational processes for engineering organization. This position covers quality, configuration management, lean process development, supply chain development for development hardware, Polish military operational support and much more.
This assignment requires to provide leadership for development and sustainment of the following processes
Engineering Quality, Product Safety and Reliability
Development hardware procurement
Polish military production support
Provide Operations support and maintain a strong working relationship with other functional disciplines
Provide laboratory management oversight
Manage ACE (Collins Aerospace continuous improvement system)
Manage compliance with government, industry, and import/export regulations as required
Experience/Qualifications
Minimum of 10 years of experience leading engineering, program management or manufacturing teams or as a business unit manager
Prior supervisory experience and strong leadership qualities
Key skills include business development knowledge, a strong business sense, technical background and familiarity with technical product development
Strong ability to persuade, motivate, and influence others
Experience in developing people and teams
Excellent verbal and written communication to support the completion of customer and management technical and business presentations, proposals, and reports.
Assist in leading group process improvements using our Collins Aerospace continuous improvement system (ACE), including the continued development of standard work for program management group processes.
Actively support the organization's efforts to meet or exceed EH&S goals and plans, must comply with the EH&S Policy and applicable regulatory and company EH&S rules and requirements.
Positive "can do" attitude, able to identify and overcome challenges
Zainteresowane osoby prosimy o przesłanie aplikacji z uwzględnieniem aktualnej zgody na przetwarzanie danych osobowych w języku polskim oraz ewent. angielskim (CV oraz list motywacyjny)
APLIKUJ